PKC INFO
THE PICKLEBALL KELOWNA Club (PKC) outdoor season is from May 1st to Sept 30th each year. Our schedule covers a variety of events and levels with club open play times offered daily.
REGISTRATION is Online with Track IT Hub. Registration opening date will be announced. Please make sure you are signed up for our Newsletter to keep up to date on our club information and announcements. If you have not signed up you can do so on the homepage.
COURT HOSTING / SCHEDULE - Play times will be established with court hosts to open and close. Please do your part - if each time slot had 6 or more hosts - the days could be shared meaning the same person isn't there week after week. We have also eliminated the responsibility of skill level monitoring from court hosting. The job consists of opening up the box to access equipment, and getting the pickleballs on the courts. Court hosts are not expected to have to stay for the full session. Our club cannot exist without volunteers - please do your part.
SKILL LEVELS / WHO PLAYS WHERE - Pickleball Kelowna has a user friendly paddle rack for club open play. One is stationed outside of courts 1 to 6, and one outside of courts 7 to 12. Place your paddle flat on the rack in stacks of 4. When a court is finished the first 4 paddles farthest to the right are next. You can place your paddle on any stack that doesn't have 4. We ask that members try and be aware of new players, welcome them, play a game with them, show them the ropes.
---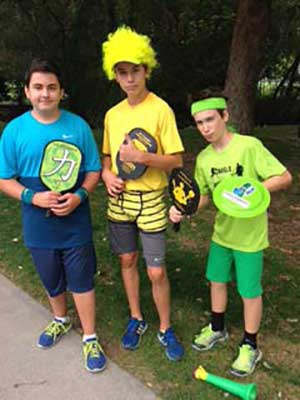 BRINGING FRIENDS/FAMILY - NEW PEOPLE TO PICKLEBALL
We definitely encourage this! If you are bringing someone new who has never played before, we suggest that you look under our Clinics heading and come out to our Introduction to Pickleball Lesson. If you are a new player yourself this is the perfect place to start to learn the game. If you are bringing someone to play who isn't a member, a waiver must be signed.
Sign up to
Pickleball Kelowna's E-Newsletter
Keep up to-date on all our latest news from Pickleball Kelowna and beyond. This is Pickleball Kelowna's main form of communication for registration info, schedules, tournaments, events and all pickleball information. You do not need to be a club member to join. Your email address will never be sold or distributed other than to contact you regarding pickleball information that affects our club.